WASHINGTON — Even though China is South Korea's top trading partner, Seoul's tightening ties with the U.S. and other wealthy democratic countries reveal its interest in countering Beijing's economic coercion, experts say.
After a monthlong diplomacy effort that included summits with the U.S. and G-7 leaders, "reducing our reliance on China" and "diversifying our trading partners will help our economy," South Korean Foreign Minister Park Jin said Wednesday at a hearing in Seoul.
President Yoon Suk Yeol held a Cabinet meeting on Monday after the G-7 summit in Hiroshima, Japan, and said he "secured the basis of cooperation" with G-7 countries including Canada, Australia and Germany on "safeguarding supply chain networks" in critical minerals and semiconductors.
South Korea was invited by Japan to the May 19-21 summit as a nonmember of the G-7, which consists of the U.S., the U.K., Canada, France, Germany, Italy and Japan.
At the summit on Saturday, the members — seven of the world's wealthiest countries — announced in a joint communique that they would "foster economic resilience" and counter Beijing's "economic coercion" and "malign practices" by "de-risking and diversifying" their trade away from China.
In a separate statement released on the same day, they said countries making "attempts to weaponize economic dependencies" will "face consequences," without naming any countries.
Experts said Yoon's participation at the summit where the G-7 countries unified against China's economic coercion, in addition to his close alignment with Washington, implies Seoul has joined their efforts.
"The Yoon government seeks to join Washington and other allies in addressing supply chain and other economic security issues," said Andrew Yeo, the SK-Korea Foundation Chair in Korea Studies at the Brookings Institution.
"This may entail Seoul joining Washington to some degree in countering Chinese economic coercion, but the Yoon government will still move cautiously on how it navigates issues like export controls directed against China," Yeo continued.
VOA's Korean Service contacted the Chinese Embassy in Washington for comment on the G-7's efforts to counter economic coercion and South Korea's participation at the G-7 summit and was referred to comments made at a Chinese Foreign Ministry news briefing.
At the briefing, Wang Wenbin, a ministry spokesperson, accused the U.S. of being "the very origin of coercive diplomacy."
Economic coercion
As the world's second-largest economy after the U.S., China has been accused of using its economic standing for political and military purposes.
According to the Mercator Institute for China Studies, based in Berlin, China engaged in 123 cases of economic coercion worldwide between February 2010 and March 2022.
The Cyberspace Administration of China on Sunday said products from the U.S. company Micron Technology presented security risks. It gave no details as China banned Micron's high-end semiconductors from computers that handle sensitive information.
China banned Australian coal and slapped tariffs on wine, lobsters, timber and barley in 2020 when then-Prime Minister Scott Morrison called for an independent investigation into the origin of the COVID-19 virus first found in humans in the Chinese city of Wuhan in December 2019. Beijing relaxed the coal ban this January.
When U.S. missile defense system THAAD was deployed to South Korea in 2017, Beijing banned its tourists from traveling to South Korea and canceled K-pop concerts in China.
"The Yoon administration, not just by going to the G-7 and participating in discussions of economic coercion but a range of other actions, most notably the summit in Washington a few weeks ago, has signaled clearly that it's aligning itself with the United States more completely, more firmly and is willing to go along with many of the approaches that the U.S. is proposing, including an economic coercion," said Matthew Goodman, senior vice president for economics at the Center for Strategic and International Studies.
Yoon made a state visit to Washington in April.

Restricting high-end chips
Experts said one of the major expectations Washington holds for Seoul is for it to restrict exports of high-end chips to China. South Korea's Samsung and SK Hynix are top global chip producers.
"The administration has been very clear to South Korea that semiconductors used in Chinese supercomputers that can help the Chinese military develop very sophisticated weapons is an area that the United States wants to see restricted," said Dennis Wilder, who was senior director for East Asia affairs at the White House's National Security Council during the George W. Bush administration.
"China's building its military" and "I'm not prepared to trade certain items with China," President Joe Biden said at a news conference after wrapping up the summit on Sunday. He continued, "When I was asked by [Chinese] President Xi [Jinping] why, I said, 'Because you're using them to build nuclear weapons and other weapons of mass destruction.'"
Biden added, "We've now got commitment from all of our allies they're not going to either provide that kind of material that allows them to do that."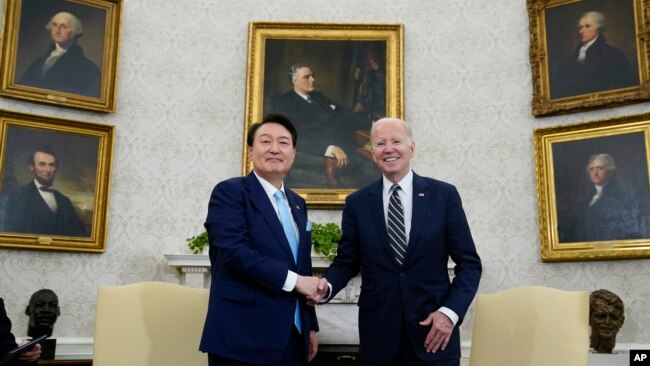 Experts said Micron chips, although advanced, are not the kind of high-tech semiconductors that Washington wants to prevent Beijing from accessing for its military.
Reducing dependence on China
Troy Stangarone, senior director at Korea Economic Institute, said, "The most important role that Korea can play is reducing its dependence on China by diversifying its imports."
Out of 3,941 kinds of products that South Korea imports, 1,850 are imported from China, Stangarone said, citing a study by the Korea International Trade Association.
Before the G-7 summit, Seoul made an agreement on May 17 to import critical minerals from Canada.
"Canada has the world's sixth-largest reserves of lithium, seventh-largest reserves of nickel and cobalt, all minerals used in the production of EV batteries," Stangarone said.
"[South] Korea is currently highly dependent on China for these inputs and the agreement with Canada will help in diversifying their supply chains."
Experts said although Seoul has a strong interest in minimizing China's economic leverage over it so as not to repeat the THADD experience with China restricting travel, it has to take a cautious approach in selectively reducing dependence on Beijing.
South Korea is "one of the countries most affected by Chinese economic coercion," said Wilder. "It's difficult for South Korea because of its geographic location and other factors to wean itself from the Chinese market."
He added, "The administration is not trying to get South Korea to stop buying from China or selling to China. It's just in certain very targeted categories."
Source : VOANews