Taipei, Dec. 9 (CNA) The Central Weather Bureau (CWB) issued a heavy rain advisory on Friday in northeastern Taiwan, while the weather in the central, southern and eastern regions is forecast to be generally sunny.
Under the influence of seasonal northeasterly winds, rainfall is expected in the north coast of Keelung City, Yilan County and mountainous areas of Greater Taipei, the CWB website indicated.
It cautioned local residents about regional showers and landslides that may occur due to the consecutive days of rain over the past few days.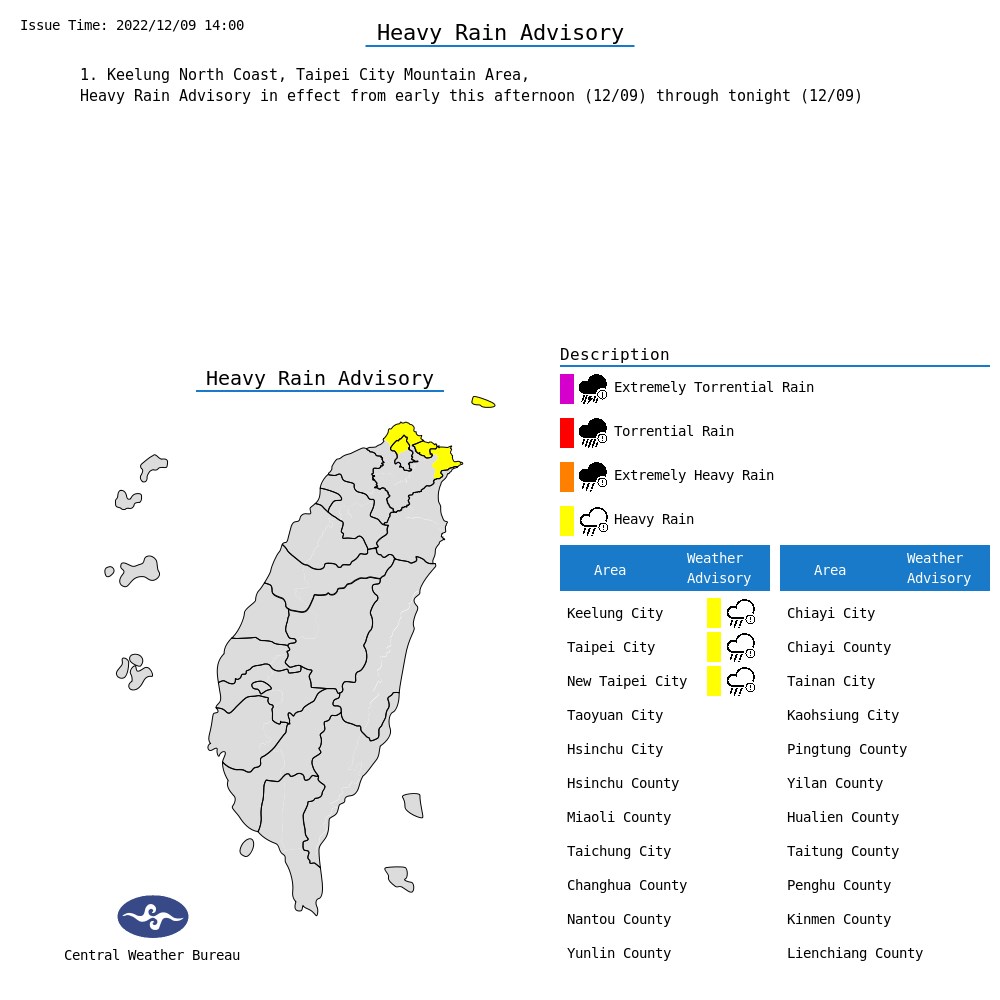 In areas north of Miaoli County, occasional rain can occur, while eastern Taiwan and areas south of Taichung will be mostly sunny, according to the CWB.
The temperature in the wind-facing northern and northeastern Taiwan is expected to be lower, averaging 18-20 degrees Celsius, but the mercury in other regions will likely remain above 20 degrees in the daytime, and can even hit 30 degrees in the Pingtung area, the CWB said.
Whereas the temperature is forecast to be generally stable in northeastern Taiwan Friday, the CWB said it can sink to 17 degrees in central and southern regions, cautioning local residents to stay warm after the sun sets.
The Bureau also forecast that long waves will hit the coasts of Hengchun Peninsula and eastern Taiwan. It said so far, waves of nearly three meters tall have been spotted in Yilan County's Su'ao Township, as well as in Huanlien County and Taitung County.
Meanwhile, the air quality on Friday is expected to be poor in southern Taiwan, where strong winds in coastal areas from Changhua County to Tainan may stir up dust, hurting air quality and visibility, the CWB added.
Source : FocusTaiwan