AMAMI OSHIMA, Kagoshima: Japan is increasing its defence spending and arming its distant islands as tensions rise in the East China Sea.
Observers said threats from neighbouring powers have prompted the nation, which has for decades depended on the United States for security, to start stepping up its own defence capabilities.
Officials said the country will be safer with stronger military might, but the buildup has stoked fears among local residents.
Among them are those who live on the Amami Islands.
Once part of the ancient Ryukyu Kingdom, the island are famed for their lush forests, crystal clear waters and beautiful coral reefs.
But hidden behind the stunning natural scenery are painful memories of past wars.
The region, like neighbouring Okinawa, was placed under US military rule after the end of World War II.
Today, the islands remain culturally and politically distant from big Japanese cities on the main Honshu and Kyushu islands.
However, local residents said they fear history is repeating itself as the southern islands once again become the frontline in Japan's defence in recent years.
Ms Eriko Minayoshi, a native of Amami Oshima, the largest of the islands, told CNA her heart sank when Camp Amami and Camp Setouchi were set up in 2019.
"My father experienced the war. He was in the city of Naze when it was under attack. He was nearly killed," she said.
"Amami Oshima suffered greatly from the past war. Why is this happening to us again now? I am really worried."
DEFENCE ON SOUTHERN ISLANDS
And it is not just Amami Oshima. As the US-China rivalry plays out in the East China Sea, Japan is fortifying other remote islands in its southwest.
Before 2019, defence capability was almost non-existent in Nansei Shoto, also known as the Ryukyu Islands, which are a string of islands that stretch from the south of Kyushu to Yonaguni.
The only military presence used to be in Okinawa's capital of Naha. But in recent years, new garrisons have been built.
The latest garrison opened in March on Ishigaki Island in south Okinawa, just 270km from Taiwan.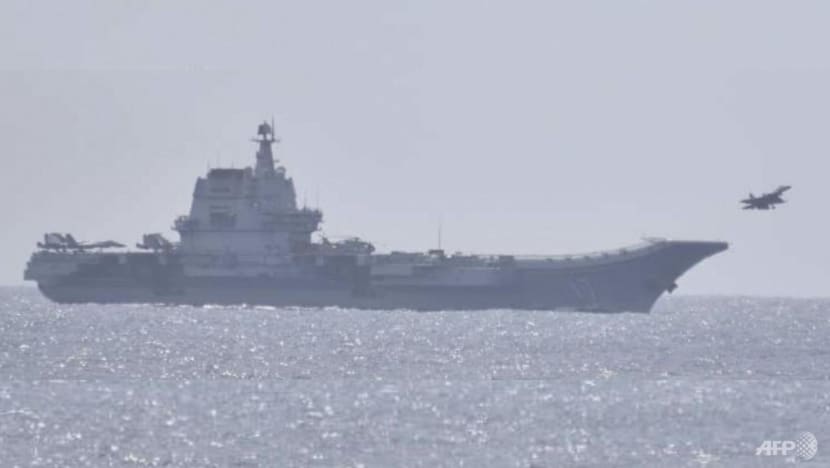 In December 2022, Japan unveiled its largest military buildup since World War II, pledging to double its defence budget within five years.
Japan is also set to deploy long-range missiles, capable of reaching as far as China, along the southern islands by as early as 2026.
REGIONAL THREATS
China's growing military assertiveness in the region is at the top of Japan's security concerns, as Tokyo worries Beijing could attack its islands or Taiwan.
Another neighbour the country is keeping a wary eye on is North Korea, which sporadically fires missiles into the Sea of Japan, and at times over Japan.
On Thursday (May 25), Russian aircraft detected off its coasts caused Japan to scramble fighter jets.
Proponents of the new military bases said that with tensions heating up in its backyard, Japan has begun to realise that it has no choice but to beef up its defence capabilities.
This is even more prevalent in waters surrounding the Islands, which China also claims and calls Diaoyu.
"If an emergency situation arises in Taiwan, China will try to draw Japan and the US' attention to the Senkaku Islands by making its presence felt more strongly there," said former Japanese defence minister Satoshi Morimoto.
"Their (Japan and the US) priority will be on defending the islets. And when that happens, a power vacuum will be created around the Taiwan Strait.
"This was how China advanced its presence in the South China Sea – when the US pulled out from the Philippines (in the early 1990s), a power vacuum was created in the area."
SELF-RELIANCE
Because of its pacifist constitution, Japan has a limited defence force. It allows the US to maintain military facilities in the country in exchange for protection.
But increasingly, there are calls for Tokyo to boost self-reliance.
"Japan is facing a more proximate and serious threat than ever before. It has to do more to protect its own security," said Dartmouth College's Associate Professor Jennifer Lind, whose areas of expertise include East Asian international security.
"It is very clear that Japan is doing this (military buildup) out of a defensive motivation. We're seeing a tremendous increase in Chinese military power – and that is what Japan is reacting to."
Tokyo has for decades spent just 1 per cent of its gross domestic product (GDP) on defence expenditures. In contrast, China's military spending outpaces Japan's by more than four times.
Observers said a bulked-up military presence in Japan can deter China's ambitions in the region.
"With a more robust defence posture, Japan can increase its deterrent, making the use of force by China less likely, and peace more likely in Asia," Prof Lind told CNA's Asia First on Wednesday.
China had lashed out at Japan over its defence shift, accusing Tokyo of "provoking regional tension and confrontation".
Prof Lind said, however, that Japan's military is already late to the game.
"The arms race in Asia has already been well underway. China has been arming itself significantly over the past few decades," she said, adding that China has the world's largest navy with the most number of warships.
"Japan has decided that this is not safe for its security. So Japan, like other nations in the region, is just reacting to this astonishing transformation in the balance of power in Asia."
Source : CNA