When Taiwan raised the alarm last month over a record number of Chinese fighter jets crossing the unofficial border between them, Beijing said that line did not exist.
The 103 fighter jets that China flew near Taiwan – 40 of which entered the island's Air Defence Identification Zone (ADIZ) – were yet another escalation in Chinese war games.
Beijing, which has long claimed Taiwan, has in the past year repeatedly rehearsed encircling the self-ruled island with fighter jets and navy ships. The military drills have taken an especially menacing turn in light of China's vows to "reunite" with Taiwan.
So far, the manoeuvres have fallen short of an invasion and stayed within a grey zone, which is military speak for tactics that fall between war and peace.
But Taiwan is now a tinderbox in what has become a volatile US-China relationship – and analysts say grey zone tactics are part of Beijing's strategy to control Taipei without firing a single shot.
What is China trying to achieve?
Grey zone warfare tactics are aimed at weakening an adversary over a prolonged period – and that is exactly what China is trying to do with Taiwan, observers say.
By regularly crossing Taiwan's ADIZ, Beijing is testing how far Taipei will go to reinforce it, says Alessio Patalano, a professor of war and strategy in East Asia at King's College in London.
The ADIZ is self-declared and technically counts as international airspace, but governments use it to monitor foreign aircraft.
Taiwan has routinely scrambled fighter jets to warn off Chinese aircraft in its ADIZ – a response that can strain Taiwan's resources in the long run, Prof Patalano said.
But that's not the only goal – or benefit. For one, the drills allow China to test its own capabilities such as force co-ordination and surveillance, according to analysts. And two they fit China's pattern of normalising increasing levels of military pressure on Taiwan to test the latter's defences and international support for the island.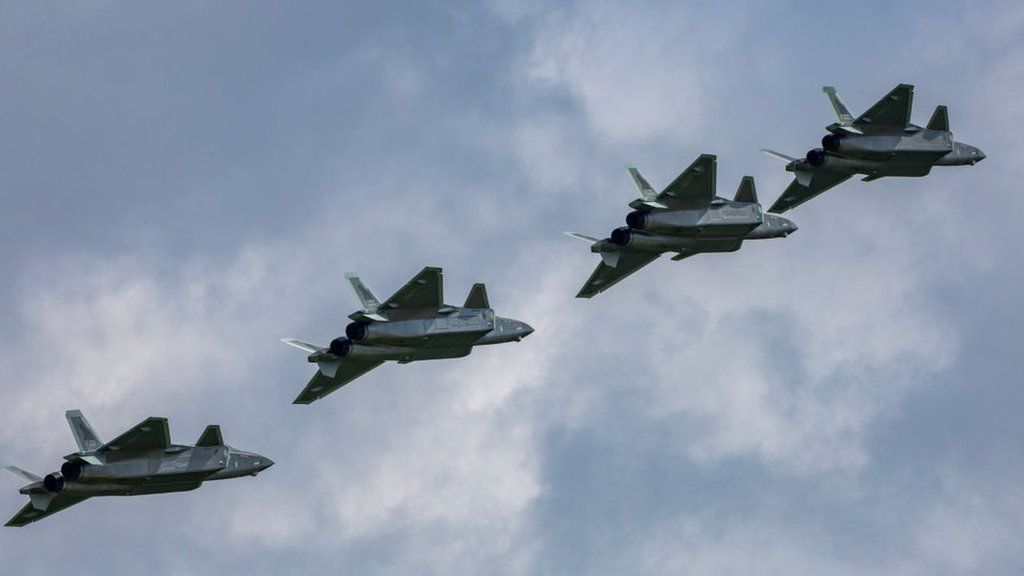 "This normalisation may one day serve to mask the first moves of a real attack, making it difficult for Taiwan and [its chief ally] the United States to prepare accordingly," said David Gitter, a non-resident fellow at the US-based National Bureau of Asian Research.
Beijing's moves also reset the baseline to deny Taiwan's assertion that it has a border with China in the Taiwan Strait, the body of water that lies between the island and the Chinese mainland.
Chinese foreign ministry spokesperson Mao Ning said "there is no so-called median line" in the strait when asked about Taiwan's reaction to the September drills.
"It also serves to numb Taiwan's public to the threat posed by such a force, which may undermine political support for a more dedicated Taiwanese military preparation for the possibility of war," Mr Gitter said.
Most analysts agree that Taiwan's military – a shrunken army, outnumbered navy and old artillery – would be no match against a far more powerful China. Many Taiwanese seem to agree as well, judging by a survey last year by the Taiwan Public Opinion Foundation which found that a little over half of them think China will win if it goes to war – only a third believe Taiwan will win.
And yet appetite for a larger defence budget appears to be weak. Nearly half of Taiwanese people think the current spend is sufficient while a third think it's already too much, according to a recent survey by the University of Nottingham.
When does China deploy grey zone tactics?
China often holds military drills in response to high-level political exchanges between Taiwan and the US, which it considers as provocations.
These have grown larger and more frequent since then US Speaker Nancy Pelosi's visit to Taiwan in August 2022. Beijing responded with week-long drills that included four days of live-fire exercises, followed by anti-submarine attack and sea raid rehearsals.
Then in April, after Taiwan's President Tsai Ing-wen met then US Speaker Kevin McCarthy in California, China practised "sealing off" Taiwan in so-called joint sword drills with its Shandong aircraft carrier in action.
China even flew jets to Taiwan's Pacific coast on the east, suggesting that it was practicing strikes from that direction, instead of west, which faces mainland China. Increasingly, China appears to be rehearsing a blockade of Taiwan. But Pentagon officials say it is unlikely to succeed as this would buy time for Taipei's allies to mobilise themselves.
September's drills also followed a visit by Taiwan's vice-president William Lai to the US. Taipei warned of drills after China called Mr Lai, a frontrunner in January's presidential election, a "troublemaker" for flying to the US.
Some analysts also believe China was trying to project strength following rumours about its missing defence minister Li Shangfu.
The tactics are also not exclusive to the standoff with Taiwan. China employs similar measures to claim almost the entire South China Sea, which could be key to taking control of Taiwan.
The waters host a multi-billion-dollar shipping lane and are believed to hold vast oil and gas reserves. Beijing has built large structures over reefs in disputed waters where Philippines, Taiwan, Malaysia, Vietnam and Brunei have rival claims. It has also deployed coast guard and militia ships to block Philippine security and fishing vessels in these waters despite an international tribunal ruling that Beijing's claims have no legal basis.
Could these grey zone tactics escalate?
The drills have led to an increasingly militarised region – be it in the waters around Taiwan, or in the skies above.
The US and its allies have also stepped up their military exercises in the South China Sea. Just this week, the US and the Philippines kicked off yet another round.
Even if neither side has the intention to provoke, observers fear that the build-up of warships and fighter planes has heightened the chances of a costly miscalculation. The two countries' militaries also no longer communicate directly – although the US says it is trying to revive the hotline, which would help defuse any unplanned escalation.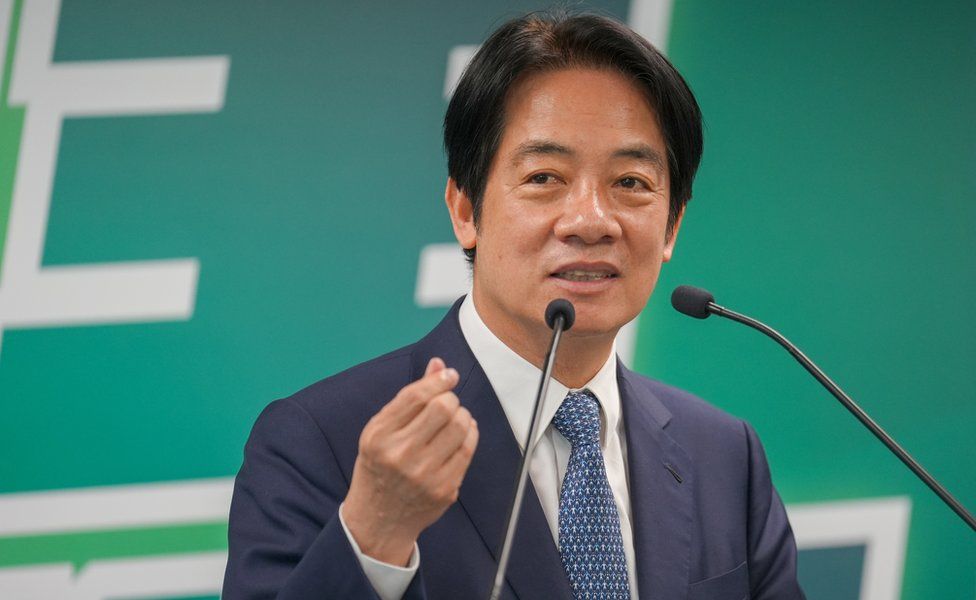 Despite resuming high-level dialogue with the US, China has shown no signs of backing down on Taiwan.
The record incursions in September show that such manoeuvres will proceed as part of Chinese President Xi Jinping's policies, even without "foreign triggers", Mr Gitter said. Mr Xi recently said he "will never promise to give up the use of force" and that Taiwan "must and will be" united with China.
But observers say China has to walk a tightrope in the coming months because flexing its muscle too much could also pave the way for Mr Lai, who it sees as a pro-Taiwan-independence candidate, to win in January's crucial election.
Next year is also when Beijing is putting into service its new Fujian aircraft carrier, its most advanced yet, which Taipei says will enhance China's ability to seal off the Taiwan Strait.
China's military drills will only get bigger and more frequent, Mr Gitter said.
"We can expect these numbers to creep ever upwards until they perhaps even approach levels one might see in a real attack," he said.
Source : BBC