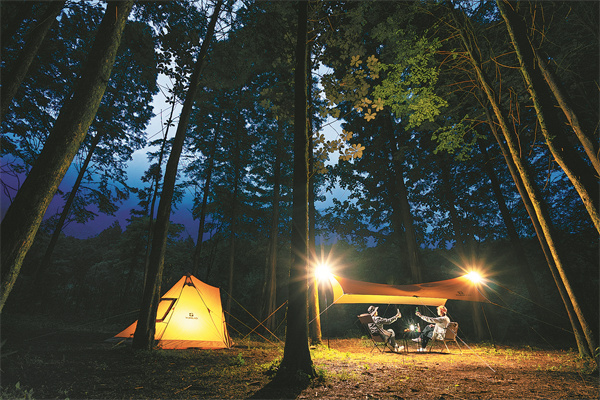 More options for tourists as restrictions subside but outdoor appeal remains
Sleeping under the stars and awakening in the gentle sunlight of dawn has always fascinated people seeking an escape from the hustle and bustle of urban life.
With related photographs sweeping social media platforms and stories grabbing headlines, glamping became a buzzword among Chinese holidaymakers in 2022, when they had to spend their leisure time on their doorstep or in nearby parks due to restrictions on interprovincial tours amid COVID-19 prevention and control.
But since January, after changes in response to the pandemic, interprovincial tours and overseas trips have resumed. Does it follow that the fever for glamping will subside?
When it is clear that the tourism market is turning around, tourists will have more options and the richness of tourism product offerings is expected to recover to the level of pre-pandemic days, Deng Ning, deputy head of the School of Tourism Sciences at Beijing International Studies University, told China Tourism News.
"Apparently, the number of those focusing on glamping will drop because of that. But glamping has gained popularity in the country in the past two years, grown into a key type of local tour and captured a considerable market," Deng said. "The market is increasingly becoming rational so the time for competition in services and brands is to come."
Ma Xiaolong, a professor with the College of Tourism and Service Management at Nankai University, told the Beijing-based newspaper that fewer tourists in the glamping market does not necessarily mean the revival of conventional tourism business types will take on or even replace glamping in the middle and long run.
"Glamping satisfies people's desire for returning to nature at a low cost," he said. "With upgrades to tourism consumption, glamping that features comforts, one-stop services, a relaxed atmosphere and a strong socializing function will cater more to the leisure needs of the multitudes, which is reflected in the robust growth of the sector for years in markets such as Europe, North America, Australia and New Zealand."
"Glamping is somewhat an upgrade or a complement to local tours," as it has the charm that conventional tourism offerings lack, the newspaper quoted Zhu Xian, founder of Dare Glamping, as saying."The key is whether its products can win hearts," he said.
Dare Glamping operates more than 50 campsites nationwide. It is currently busy with a new opening at Qiandao Lake, known as the Thousand Island Lake, scenic site in Zhejiang province.
The site covers 133 hectares and is an ideal destination for sakura blossom sightseeing in March.
As the project is a collaboration with a firework show company, firework displays will feature regularly at the campsite, according to Dare Glamping. It also plans to launch a daily tour package, incorporating water sports and outdoor gourmet dining.
The new site is targeted at young people in Shanghai, as well as in Zhejiang and Jiangsu provinces, all located across the developed Yangtze River Delta region. "Their longing for thrills and romance will be fulfilled here," Zhu said.
"Campsite operators need to know what demands of consumers need to be met at what time," he noted. After that, operators should deal with the safety, comfort, cost-effectiveness (of their products) and other issues, he said.
Guo Jiaming, CEO of Campingland which is based in Guangzhou, Guangdong province, told China Tourism News, that the key to success in the glamping business is to bring people with similar interests together.
Campingland has designed different themed products according to different groups' interests and hobbies. These include music-themed camping, an art market and an outdoor sports gathering site. Even in one camping site, Guo said it could host various themes in a month to attract different groups.
"Glamping can be taken as a scene built using a tent, where there is much room for imagination. For instance, it can house a company's team-building or branding activities," he said. "So we don't have to limit its target group to leisure tourists and outdoor enthusiasts — we could seek more client groups. That would inspire us to develop more dynamic and competitive products."
Deng from BISU noted that the selling point of glamping is to provide campers with a relaxed feeling of getting close to nature. Therefore, products focusing on such themes as family relations, education, study tours, culinary delights and outdoor sports are "the soul" of glamping.
The return of traditional tourism businesses is to provide a huge boost to the entire tourism market, of which glamping is an integral part, said an executive of Ctrip.com.
Guo said: "The full recovery of the tourism market gives industrial players a chance to review the market and think over where their businesses will go."
Source: china daily