Reading Football Club is in turmoil. It faces a winding-up petition over unpaid tax, a league charge of failing to pay players on time and it's fallen to the third tier of English football.
It's a far cry from 2017 when Chinese brother and sister Dai Yongge and Dai Xiuli bought the club, touting a vision of creating "world class facilities" at the then Madejski Stadium.
The siblings are now one of northern China's wealthiest families, with a love of football said to have been swelled watching Manchester City in the early 2000s.
But they are rarely heard from in the UK, staying out of the public eye even as Reading FC struggle on the pitch and the club deals with what it says are "significant financial challenges".
While they took over the club as a duo, Dai Yongge is now referred to as Reading's sole owner.
The firm he heads, Renhe Commercial Holdings, was a family business empire built off the back of developing underground air raid shelters into shopping malls.
Building in that way helped the firm legally avoid regulations and taxes applied to retail developments above ground, the company itself said in a filing to the Hong Kong stock exchange.
Their first underground centre opened in 1992. By 2016, the firm had a network of 23 malls.
It was so successful that in 2014, Dai Xiuli was named by Forbes as one of the richest women in the world, with an estimated fortune of $1.2bn (£715m).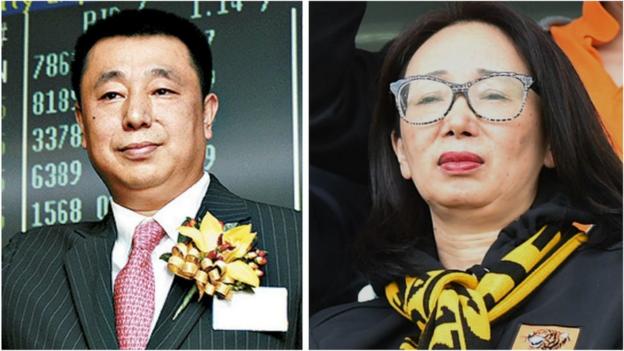 That proved a pivotal year for brother and sister. In it Dai Xiuli was divorced from her then husband, British maths teacher Tony Hawken.
She also made an apparent decision to step back from the family business. Forbes reports that she transferred her controlling stake in Renhe to her brother as a free gift.
Two years later, despite a downturn for the business, Mr Dai and his wife Zhang Xingmei still enjoyed an estimated $931m (£656m) fortune.
A restructuring saw the firm adopt the new name China Dili Group and focus on running agricultural markets.
In 2021, Dili Group said it donated 16.2m Chinese yuan (£1.8m) to Wuhan, the city at the centre of the Covid pandemic, although it did not operate a market there.
Watching Sun Jihai at Manchester City
The Dais interest in football is reported to have blossomed years earlier when Dai Xiuli lived in England.
Her love of the game is reported to have swelled watching Chinese defender Sun Jihai play for Manchester City in the early 2000s.
By 2007 the Dais had taken over Chinese club Shaanxi Chanba, relocating it first to Guizhou in 2012 and then to Beijing in 2016.
Sun Jihai even signed for the club – renamed Beijing Renhe – towards the end of his playing career. But by 2021 Beijing Renhe had been entirely dissolved as a business.
The Dais had already turned their attention to English football.
In 2017, they made a failed attempt to buy Hull City. The Reading takeover was completed in May of that year.
"One of my first priorities will be to visit the development site for the new training ground," Dai Yongge told the club website back then.
"We also intend to revisit stadium extension plans with the vision of creating world-class facilities at the club."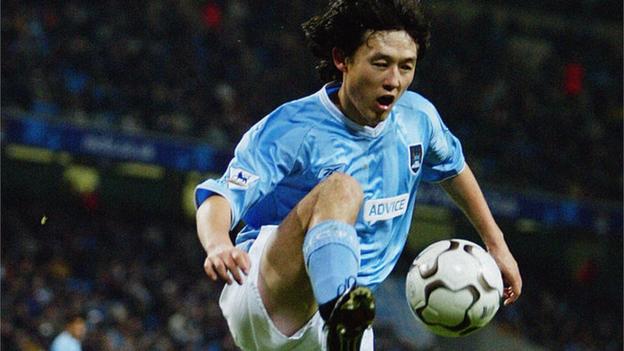 However, their six-year stewardship has been an "unmitigated disaster", according to Reading fans group Sell Before We Dai.
The campaign group cites the club's "excruciating financial losses" – £146m in the five years to June 2022, according to Companies House – as well as the English Football League charges.
Reading have issued £82m worth of shares since the 55-year-old tycoon took control of the club, according to Companies House.
After last season's relegation to English football's third tier, Royals chief executive Dayong Pang told fans he was "confident" the club would "fully correct the mistakes that were made many years ago".
In a statement, he added: "As a club, financially we continue to face a number of significant challenges and our owner, Mr Dai, is working very hard to resolve those issues to ensure the future of Reading Football Club is stable, successful, progressive and positive."
The BBC has contacted Reading and their owner Dai Yongge for comment, but they are yet to respond.
Source : BBC