Chinese leader Xi Jinping welcomed Russian President Vladimir Putin to Beijing on Tuesday for the start of a visit expected to underscore the two leaders' shared vision for a new international order no longer dominated by the United States and its democratic allies.
The meeting between the world's two most powerful autocrats comes as geopolitical fault lines harden globally – first following Russia's grinding invasion of Ukraine, launched just three weeks after the leaders' last meeting in the Chinese capital in 2022 – and now as Israel's war against Palestinian militant group Hamas threatens to spiral into a broader conflict that could shatter stability in the Middle East.
Both Beijing and Moscow have criticized Israel's actions and called for a ceasefire, in the latest showing of the two powers' efforts to step up their alternative leadership to that of the US, which affirms Israel's on-going right to retaliate.
Putin's visit to Beijing comes as US President Joe Biden prepares to travel to Israel on Wednesday. Biden is expected to give a high-profile show of support for Israel as it attempts to eliminate Hamas, while the US presses for ways to ease humanitarian suffering in Gaza and warns other regional players about becoming further engaged in the conflict.
Xi and Putin are expected to discuss the situation in Gaza during a bilateral meeting Wednesday ahead of the opening ceremony for the Belt and Road Forum in Beijing – an exceptionally rare foreign trip for the diplomatically isolated leader who is treated in Beijing as a guest of honor.
Heads of state, representatives and delegations from more than 140 countries are expected to attend China's landmark, two-day diplomatic event beginning Tuesday, which marks 10 years since the start of Xi's global infrastructure funding drive, and presents the Chinese leader with an opportunity to project Beijing's growing global ambitions.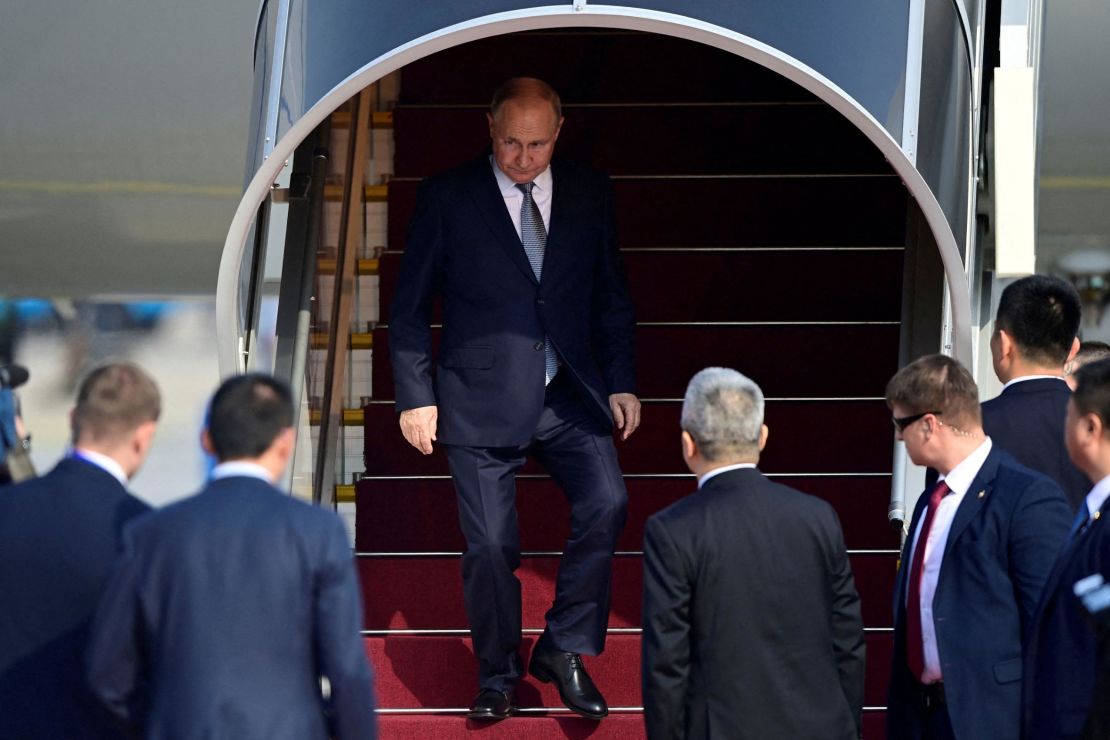 Russian President Vladimir Putin arrives in Beijing on Tuesday. He is expected to meet with Chinese leader Xi Jinping and attend the Third Belt and Road Forum.Parker Song/Pool/Reuters
Push for peace?
The timing of the Beijing hosted forum, coming as Israel signals it may launch a ground invasion of the Hamas-governed Gaza strip, presents Putin with opportunity to shift the global spotlight away from his war in Ukraine, analysts say.
Russia put forward a resolution at the UN Security Council calling for a ceasefire. The motion, which did not condemn Hamas, was supported by China but rejected by the US, United Kingdom, France and Japan on Monday. Russia's UN envoy on Friday compared the day-after-day shelling of Hamas-controlled Gaza by Israel to the brutal siege of Leningrad during World War II.
At the other end of the historical spectrum, US President Joe Biden this weekend described Hamas' attack as the worst massacre of Jews since the Holocaust.
China has said it will send its envoy to the Middle East to encourage talks and condemned "all acts that harm civilians," but it has not explicitly targeted that condemnation at Hamas, nor named the group in its statements.
During a flurry of diplomatic calls in recent days, Chinese Foreign Minister Wang Yi said Israel's actions have "gone beyond the scope of self-defense."
Both countries' statements stand in contrast to that of the US, which has made clear its staunch support for Israel – and signaled it does not feel this is the appropriate moment for a ceasefire.
The conflict will likely feature in Xi and Putin's upcoming meeting, according to the Kremlin. Russia's war in Ukraine is also likely to be discussed by the two leaders.
In that conflict, too, China has tried to position itself as a potential mediator.
But when its comes China's interest in pushing the Russian leader to end his invasion, Xi may be cautious not to take any step that could damage relations.
That's especially as he is likely watching a potential shift in global positions on the conflict, amid signs of changing attitudes at least in some parts of Europe – and an upcoming election in the United States next year could trigger a significant shift in the level of US support for Ukraine.
"So far we don't see any sign that China is keen to use its upper-hand (to put pressure on Russia)," said Li Mingjiang, an associate professor of international relations at Singapore's Nanyang Technological University.
"Chinese policymakers don't want to see even the slightest level of distrust between Beijing and Moscow."
A rare trip
Putin, who has seldom left the bloc of former Soviet nations since launching his war, is shunned by the West and wanted by an international court for alleged war crimes. Experts say he is also unwilling to travel anywhere he feels his personal security can't be absolutely assured. He made his first known trip of the year outside of Russian-controlled territory last week, with a visit to Kyrgyzstan.
But despite Putin's changing circumstances since his last time in Beijing, the two leaders have become increasingly aligned in presenting an alternative world view to the one offered by the West – as they seek to bring more countries alongside their efforts to shift a global balance of power they feel is stacked against them.
In an interview with China's state broadcaster ahead of the event, Putin lavished praise on Xi, calling the Chinese president "steady, calm, pragmatic and reliable – a true world leader," and hailing his "unique approach of dealing with other countries" that has shown no imposition or coercion, but rather provided others with opportunities.
The two leaders, who frequently refer to their close friendship, have now met 41 times in the past decade, including three since the start of the war in Ukraine, including this week. During their previous meeting in Beijing, Xi and Putin released a 5,000-word joint statement declaring a partnership with "no limits" and underscoring their deep alignment against the West.
Attending the forum will be a significant opportunity for Putin to "achieve international exposure … and show that Russia still has a strong friend in China," said Li in Singapore.
"And for China, having an important international player like Putin to join the BRI summit is also politically important," he added. Otherwise, the forum – the crowning event of Xi's diplomatic year – is largely expected to include leaders from less-influential developing and middle income nations.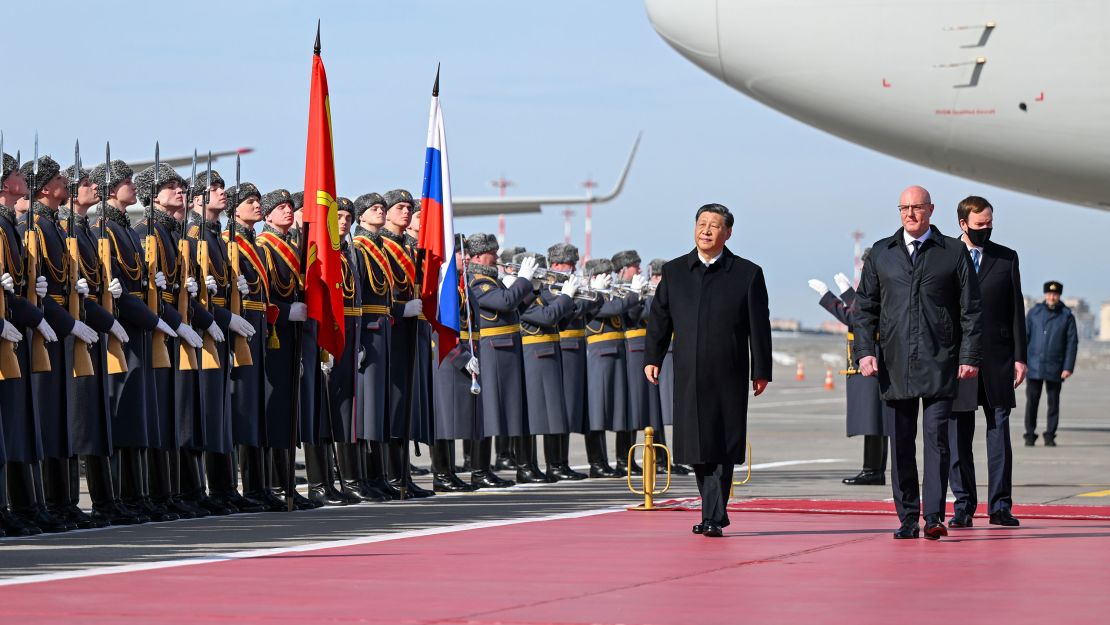 Chinese leader Xi Jinping inspects the honor guard at the Moscow Vnukovo Airport on March 20, 2023.Xie Huanchi/Xinhua via Getty Images
'No limits' no more?
Russia's invasion of Ukraine put the growing China-Russia relationship to the test like no other event in recent history, placing Beijing under heavy scrutiny from Western nations for its close ties to its northern neighbor and raising questions about whether Xi had advance knowledge of Putin's plan.
Beijing has since claimed neutrality in the conflict and called for peace, in recent months ramping up efforts to be seen as a potential peace broker, as concerns about its close ties with Russia further strained its relations with Europe and the United States.
But the world's second largest economy has also become a key lifeline for a sanction-ridden Russia, which is now dependent on it for goods and energy purchases, and the two countries have deepened their interactions across a range of areas since the start of the war.
Last year, Russia and China saw record trade, which continued to grow in 2023. They've expanded security cooperation through more joint military drills and robust official dialogue, experts say, and continued to deepen diplomatic ties – including those of Putin and Xi, who earlier this year chose a state visit to Moscow as the symbolically significant first foreign trip of his third term as China's President.
"China tries rhetorically and symbolically to put a certain distance between itself and Russia when it comes to talking to Western audiences," said Alex Gabuev, director of the Carnegie Russia Eurasia Center think tank in Berlin.
"(But) even if it's officially not dubbed a 'no limits partnership,' (the China-Russia relationship) has become, in real terms, more solid, robust, and deep," he said.
Source : CNN