Canadian Prime Minister Justin Trudeau has backed a special rapporteur's recommendation not to hold a public probe into election interference.
The government-appointed rapporteur instead recommended on Tuesday a series of hearings on the meddling claims.
The advice is in response to claims that China attempted to interfere in Canada's last two federal elections.
Mr Trudeau has faced pressure to launch a public inquiry and opposition legislators condemned the decision.
The prime minister appointed David Johnston, Canada's former governor general, in March as special rapporteur to investigate the interference allegations, which are denied by China.
He was also given the authority to recommend a public inquiry.
At a news conference on Tuesday, Mr Johnston said that foreign governments are "undoubtedly attempting to influence candidates in Canada".
However, he said an inquiry would not be possible due to the sensitivity of the intelligence involved.
Mr Johnston said he made his conclusions after reviewing classified reports and interviewing senior politicians and intelligence officials.
"What has allowed me to determine whether there has in fact been interference cannot be disclosed publicly," Mr Johnston said. "A public review of classified intelligence simply cannot be done."
Instead, in a report into the claims, he recommended holding public hearings to discuss what he described as "serious shortcomings in the way intelligence is communicated from security agencies to the various government departments" in Canada around detecting and deterring foreign interference.
"These serious gaps must be addressed and corrected," his report concluded.
The allegations of foreign interference stem from a steady drip of reports, mostly based on leaked intelligence, in Canadian media in recent months that detailed claims of Chinese meddling in the country's last two federal elections, in 2019 and 2021.
The efforts are not believed to have altered the outcome of either general elections, but have rocked Canadian politics.
In a news conference later on Tuesday, Mr Trudeau endorsed Mr Johnston's public hearings recommendations.
"Rigorous debate is a pillar of democracy," he said.
"As is interrogating our institutions and holding all levels of government to account. But democracy is not a game."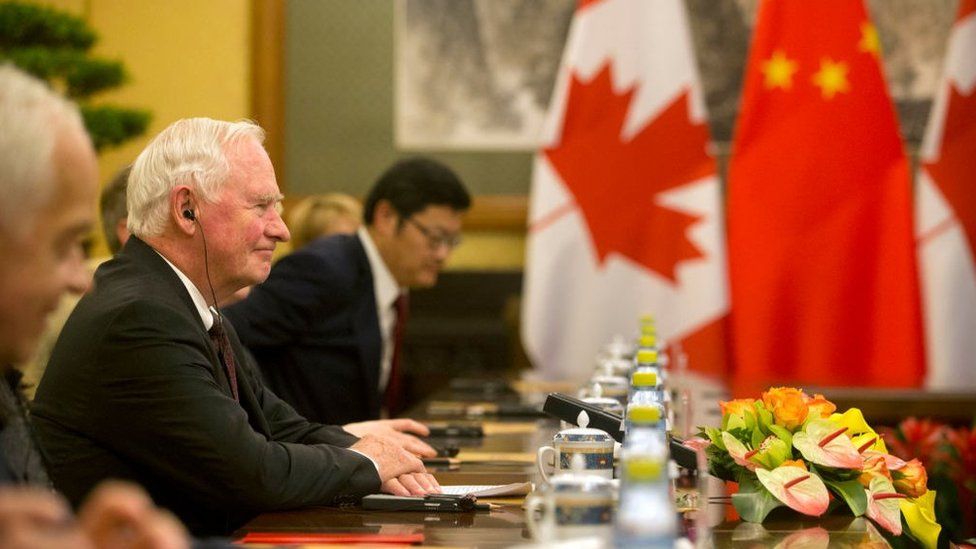 Mr Johnston's report was also critical of some of the media reports on the meddling claims, saying they were based on limited information and lacked context.
And while Mr Trudeau's government has faced accusations it failed to act on specific instances of interference, Mr Johnston said he found no example of the prime minister or others "knowingly ignoring intelligence, advice or recommendations on foreign interference".
Mr Johnston's report was criticised by Conservative leader Pierre Poilievre, who accused the special rapporteur of being friendly to Mr Trudeau and not impartial on the file.
"We need a full public inquiry to get to the bottom of Beijing's influence into our democracy," Mr Poilievre said at a news conference.
NDP leader Jagmeet Singh called the report "incredibly disappointing" and said his party continues to call for an inquiry.
Mr Johnson called attacks on his integrity "baseless accusations".
Allegations of Chinese meddling in Canadian politics have dominated headlines in recent months.
Intelligence reports have also detailed accusations that Beijing targeted a member of parliament and his family in Hong Kong after the politician accused China of human rights abuses.In response, Canada declared diplomat Zhao Wei "persona non grata" earlier this month and ordered him to leave the country.
The next day China ordered the removal of Canada's diplomat in Shanghai, Jennifer Lynn Lalonde.
China has repeatedly denied any interference in Canadian politics, and has accused Canada of "slander and defamation" following its expulsion of its diplomat.
The issue has strained already challenging diplomatic relations between the two countries.
Source : BBC