A photo of two Chinese female athletes that made an inadvertent reference to the Tiananmen Square massacre has been censored on Chinese social media.
The race numbers for Lin Yuwei and Wu Yanni form "64" – a common allusion to the incident which happened on June 4.
Discussions of the incident remain taboo in China, with authorities routinely scrubbing any mention of the topic from the internet.
In 1989, troops shot dead hundreds of pro-democracy protesters in Beijing.
It remains unclear how many people actually died that day, but human rights groups' estimates range from several hundred to several thousand killed.
The athletes had embraced each other after a 100m hurdles race at the Asian Games in which Ms Lin won gold. She was wearing her lane number 6 next to Ms Wu's lane number 4 in the photo.
Users had posted their congratulations to Ms Lin on Weibo, one of China's biggest social media platforms, but posts which included the photo were replaced with grey squares.
However, the photo does not appear to have been completely scrubbed off the internet, with some Chinese news articles still showing a photo of the two athletes.
China has won nearly 300 medals so far in the Asian Games, which are currently taking place in the Chinese city of Hangzhou. It is due to go on until 8 October.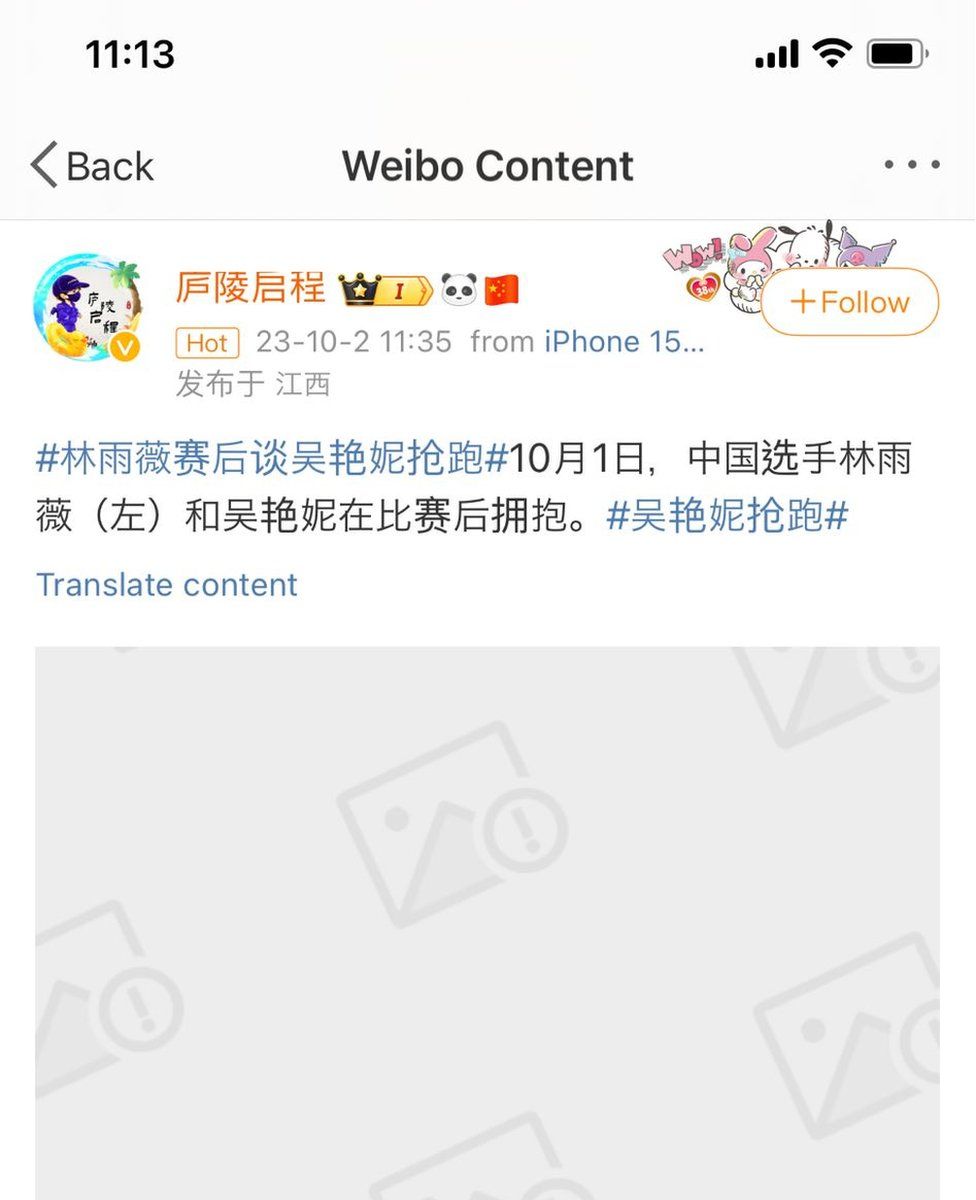 Discussion of the events that took place in Tiananmen Square is highly sensitive in China – with generations of younger Chinese growing up with little to no knowledge about the Tiananmen Square massacre.
Posts relating to the massacres are regularly removed from the internet, which is tightly controlled by the government.
Last year, a popular Chinese influencer's livestream, which took place on the eve of the 33rd anniversary of the massacre, ended abruptly after he showed his audience a vanilla log cake which resembled a tank – a reference to a iconic image of one so-called Tank Man, which shows a civilian with shopping bags standing in front of a queue of tanks, attempting to block them.
Source : BBC