More than 100 people have died across Asia this month as the vast region experiences an intense monsoon season.
The past fortnight has seen extreme rain that has caused floods and landslides across several countries including India, China and Japan.
Hundreds of thousands of people have been forced to evacuate as a result.
On Friday, South Korea was on high alert as a storm battered the capital Seoul, while in the Philippines officials warned of a tropical cyclone.
Earlier this week, Japan also reported record-breaking floods on the island of Kyushu in which at least eight people, including a local politician, died. Others are still missing.
"It's raining like never before," a spokesman for Japan's meteorological agency said, as cities around the country logged record amounts of rain.
Scientists warn that climate change has increased the risk of of floods worldwide. Many countries are struggling to mitigate the dangers of the extreme weather.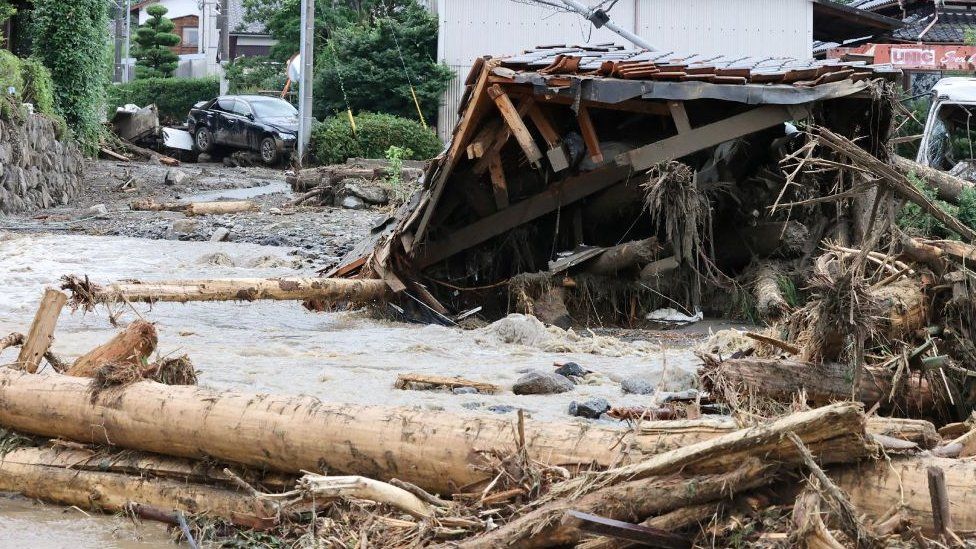 The World Meteorological Organization's director of hydrology, water and cryosphere said developed countries such as Japan were "extremely alert, and they're also very well prepared when it comes to flood management measures."
"But many low-income countries have no warnings in place, hardly any flood defence structures and no integrated flood management," Stefan Uhlenbrook added in his statement on Thursday.
Japanese authorities had earlier in the week evacuated more than 420,000 residents from two prefectures in Kyushu island.
"Your life is in danger, you need to take action immediately," the orders read.
Meanwhile in Seoul, 135 people were evacuated early Friday as torrential rain hit the South Korean capital, causing power cuts across 4,000 households.
In an emergency meeting with government agencies, Prime Minister Han Duck-soo said preventing deaths was the country's top priority.
"All public officials should remain alert and respond until the end of the monsoon," Mr Han told local media.
He also warned officials to "thoroughly prepare" for the possibility of North Korea releasing water from a dam near the inter-Korean border after the country also received heavy rain.
Such releases in the past have often occurred without notice and led to flooding and deaths in the South.
While many factors contribute to flooding, scientists say climate change due to global warming has increased the likelihood of heavy rain across the world, because a warmer atmosphere holds more water.
Last week, the World Meteorological Organization declared the onset of El Niño – a weather event where sea surface temperatures in the tropical eastern Pacific rise to at least 0.5C above the long-term average – for the first time in seven years.
This set the stage for a surge in global temperatures, as well as disruptive weather and climate patterns, the organisation said.
China and India have already seen weeks of heavy rain causing severe damage across different areas.
In northern India, authorities say almost 100 people died in the past fortnight due to landslides, flash floods and property collapses.
In the capital Delhi, sections of the subway system have been shut down, putting more pressure on flooded roads in the country's second-most populous city.
Pictures and footage online showed people stranded on flooded streets and wading waist-high through the waters.
Unusually heavy rains have also killed several people and damaged infrastructure across China. Dramatic footage from southwestern Chongqing last week showed a building collapsing into a river amid raging currents.
Meanwhile Cambodia's capital Phnom Penh was hit by flash floods last week, following what officials said was the "heaviest rainfall in three years". Around 14 districts across the city were affected.
Further south in the Philippines, heavy floods during the morning rush hour on Thursday caused a 17km (10 miles) traffic jam on a major highway leading to the capital Manila.
Some flights out of Manila airport were cancelled. Authorities expect the heavy rains to continue as a tropical cyclone lashes regions northeast of the capital.
Source : BBC